Let's say that you have ranked a blog for "buy a learjet" and other
long tail phrases for learjet and you're getting 100 visitors a month…if it were me I would install
Google Analytics so I could prove that I had the traffic coming in.
So now you have your blog…
You have proof of your traffic…
Time for you to find some advertisers!
Don't let this scare you…okay?
Here's the BIG SECRET==> Instead of thinking about this as 'sales'…think about it as two business
people helping each other.
You're simply looking for a business person that would love
to have your traffic.
The first thing I would look at is "who is already paying for this traffic"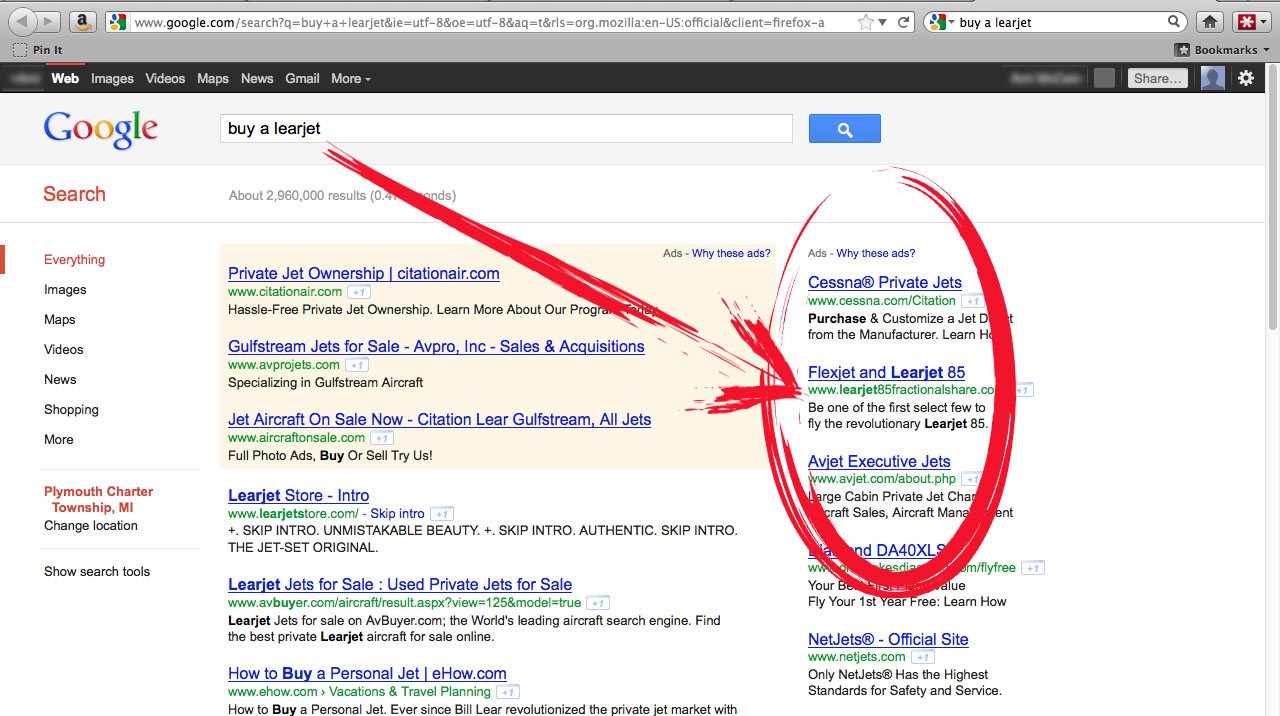 Here is a list of people saying "I pay for traffic or leads in this niche"
Let's check this out…I'll click on one of the leads…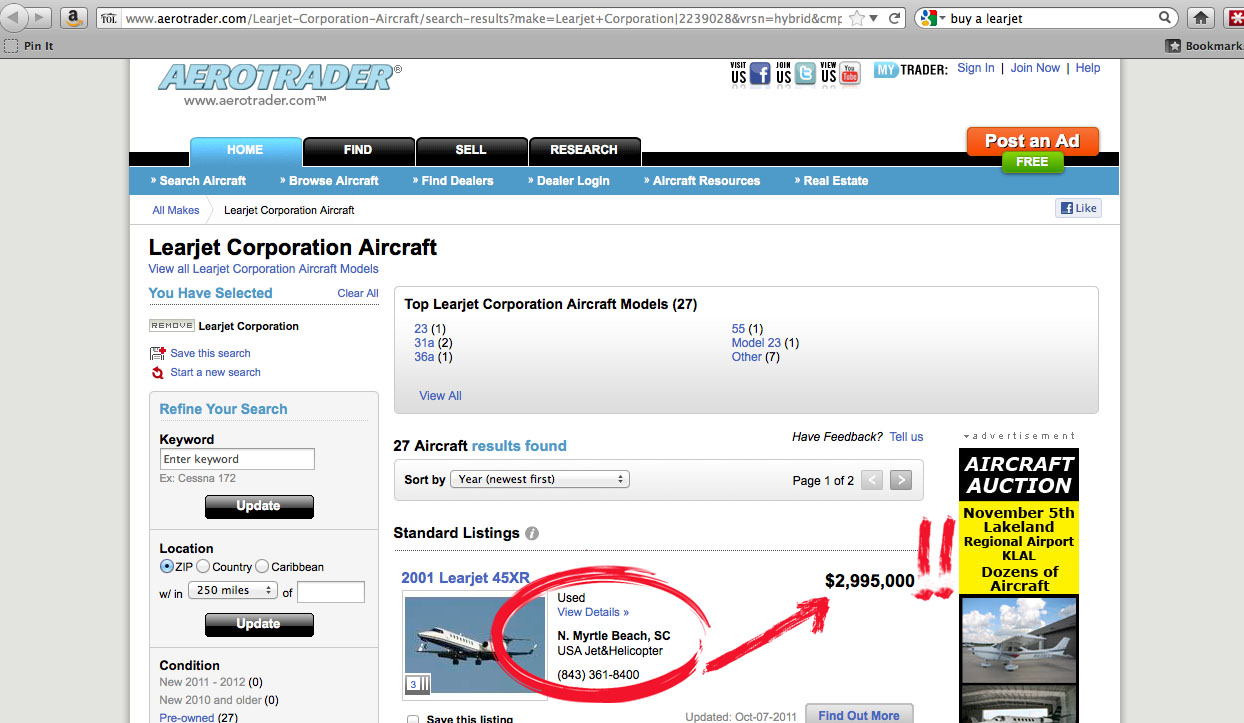 Notice there are several listings from this company on the Aerotrader website.
I would jump on the phone with this company in a New York minute…
because I have something that they want…leads or people interested
in a 3 MILLION dollar purchase.
Just tell them "I have a website that gets XXX visitors a month for several
Learjet buying keywords and I'm wondering if they'd be open to discussing me
sending THEM that traffic?"
Then it should just be an easy CONVERSATION…
"Here's my blog. Here's how many visitors I get. Here's how many I think I
could send you every day. How does that sound to you so far?"
If they are interested…they'll ask more questions like…
Where will our ad be?
Where do your visitors come from?
and How much?
Remember to stay in an authentic conversation!
I would try to let the advertiser beginning price first.
I might say…
"Frankly, because I am not in the jet business I don't know
just how valuable these visitors are for you…What level of
monthly investment and exposure do you feel this warrants for you?"
If he/she names a price then go from there. It's good practice to
not just accept the first offer because PEOPLE want to feel good about
their business deal.
If I like the price…I might say…
"Thank you…That certainly is reasonable, I'd be happy to give you that
price IF you'd be open to staying with me for at least 3 months."
or…
"Thank you…that certainly is reasonable, I have an idea, why don't
I make you the only company on my blog for an additional XXX dollars
per month? How do you feel about that?"
If I/you don't like the price…
Then work with him/her.
You could offer the advertiser "exclusive ad rights" or "non exclusive" depending on their budget.
If you got the feeling it was more about 'value' than the investment…you could offer to do a feature
article on THEIR company…If you're video minded…you could do a video about their company.
Get the idea? You can ADD MAJOR VALUE…pretty easily.
Be flexible.
You are two business people trying to help each other.
Cool?
This is a fun process.
Businesses WANT/NEED more traffic.
YOU have traffic and that's valuable.
Put your heads together and work together.
As a special treat for you:-)
I put together a list of "buying keywords" for this niche…low on traffic of course but enough
to put several pages for a blog and get a nice steady flow of traffic.
buy a learjet
buy learjet
charter learjet
cost of learjet
learjet 31a price
learjet 35 price
learjet 35 sale
learjet 40xr price
learjet 45 cost
learjet 45 price
learjet 45xr price
learjet 60 price
learjet 60 sale
learjet 60xr price
learjet 85 price
learjet buy
learjet charter
learjet charter rates
learjet cost
learjet for sale
learjet pictures
learjet price
learjet prices
learjet pricing
learjet rental
learjet rental prices
learjet sale
learjet sales
new learjet
new learjet prices
price learjet
price of learjet
private learjet
rent a learjet
used learjet
We'd love to see someone follow through and put up an Ad Blog in this or any other niche so
drop us a line at help@instacashkeywords.com and let us know how it's going.
If this is your fist time to our blog and would like for us to hand pick hot buying niches for you
come and join us at InstaCash Keywords.
Keep up the hard work!
Travis and the ICKY Team